Living In Dora MO, Heart of Ozark County
They say that Dora, MO is only about 30 miles from everywhere – scroll down and we'll prove it's true (we measured it!)
The local store/gas station/restaurant is a gathering place for locals. This is where you go to get a good home-cooked meal and catch up on the local news. Boston may be more famous, but people everyone here REALLY knows your name… or at least your face, if you prefer the quieter life!
The community is very welcoming and is always there to lend a helping hand.
Southern Missouri Homes and Farms is located along the main street through Dora along with Family Life Church, the Youth Connect, Theater, and the Dora Falcons Public Schools. On the next block is Roy's Store and the Post Office, which was established back in 1879. The town was named after the Postmasters daughter, Dora Fisher.
The town itself is small but the Dora township and zip code cover 96 sq. miles. With a population of 1373, that is only 15 people per sq. miles. So if you like your space Dora, MO is a place for you.
Dora offers a lifestyle perfect for the outdoors-man: rivers and lakes for the fisherman, canoeing and pristine National Forest for the hunters, hikers and horseback riders, and plenty of pasture for cattle.
The terrain in Dora is divided between pasture land and native oak and pine timber. Drives are scenic and the landscape is beautiful throughout all four distinct seasons!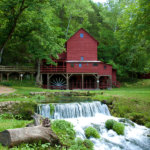 Local attractions include the stunning Mark Twain National Forest, the North Fork of the White River and Bryant Creek, Devil's Backbone (one of the most spectacular camping and hiking areas in Missouri) and of course, Hodgson Mill – the most photographed attraction in the Missouri Ozarks!
Dora to West Plains is 23 miles | Dora to Willow Springs is 29 miles | Dora to Gainesville is 22 miles | Dora to Ava is 31 miles | Dora to Mountain Grove is 25 miles | Dora to Cabool is 31 miles | Dora to Caulfield is 19 miles | Dora to Isabella is 34 miles | Dora to Tecumseh is 16 miles | Dora to Pomona is 30 miles. So as you can see we are 30 miles from everywhere.
Start your Southern Missouri Home search here!